Provo, Utah
After we got married we lived in three apartments in four months. The last one was a place I had cleaned with Rent-A-Teen, and I knew it was the one for us. It cost $100 a month and was a duplex which we shared with a free-spirited couple from back east. They had moved to Provo on a lark, but the culture proved too overpowering for them and they left. We enjoyed them. They thought I should be drinking wine during my pregnancy and were quite unrelenting. Sue and Tom. We later found out that our landlords were Doug's aunt and uncle, and the house was his grandmother's!! It had a big front porch and an old upright Victrola with some great old records. We lived there comfortably until we left Provo. Fate smiled on us when a mission friend, Willene, and her new husband Jack moved in next door. Jack and Chris fished together. They became our best best friends; I talked to Willie just yesterday. Shelly learned to toddle over there and ask for crackers!
I was pregnant that first summer with a honeymoon baby! Initially I continued working at Larsen's Herb Shoppe in Orem, but eventually it became difficult to get there because of the shared car, and the smells combined with the morning sickness did me in. Chris was gone most of the time preparing for the Gina Bachauer piano competition. I was selling Fuller Brush in the area of Provo down by Utah Lake. I had some success selling the carpet sweeper, but the rest of the products were just kind of overwhelming to me. I'm sure I was a disappointment to my supervisor, in spite of the rallies he drug me to. It was a lot like tracting, actually. I could gab it up on the porches, and I even got invited in probably more than most door-to-door salesmen, but I wasn't a real deal closer. I remember making friends with a Baptist minister and his family and going back several times just to chat. The heat and the general fatigue of pregnancy worked against me.
The overall poverty theme of the entire 13 year marriage got a good healthy firm grip in the first months of our marriage. I soon learned that practicing the piano paid little in monetary dividends. We grew a large garden in a community plot north of Provo with our friends Danny and Mary Roe. Together we planted 40 tomato plants, and then they moved! I canned and canned and canned and dried tomatoes and hung onions tied in pantyhose knots down in the old cellar. We also shopped carefully, and Chris supplemented our diet with fish that he caught whenever he could get away. I learned to make a fritter batter for the fish, and it was quite tasty. I am sure all of that Vitamin A contributed to Shelly's magnificent brain! I learned to make a mean turkey soup from some legs I could buy very cheaply.
I remember this time as challenging, and sometimes now when I drive into Provo it all falls over me like a shadow--looking for jobs, squeezing pennies, morning sickness. I had some early conceived notions about my place as a wife, and that vision had to expand to fill the role of breadwinner--a vision I never totally encompassed, unfortunately.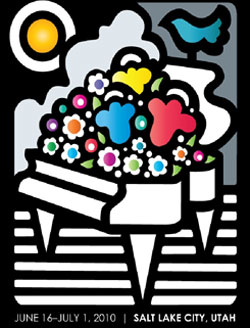 Fortunately, Chris won the piano competition and received $2000! Hooray!! That was an exciting night! I was so nervous before that I tried to make orange juice in the blender without screwing the bottom in! What an unwelcome mess...My parents and John came for the finals, and we were all so proud. I remember my mother saying words she would later eat, "He shouldn't even have to take the garbage out!" His music was truly exquisite and intoxicating. Everyone got a heaping taste of his potential that night, and I think it gave some needed energy to the career.
Some glamour entered our life after that competition. I received social phone calls from women associated with the university through their husbands. We got dinner invitations. Chris was invited to perform all over the valley and in Salt Lake. We were introduced to Ian McKay--a wonderful New Zealander who had a great vision for Chris. He entered him in an international piano competition in Australia, but that would have omitted him from the baby's birth, so we decided against it. Ian remained an advocate of Chris' for a long time. He introduced Chris to Lily Kraus--a world famous pianist--and Lily was instrumental in getting Chris into Gyorgy Sebok's studio at Indiana University. He was also responsible for a gig with the Church. We made multiple trips to a recording studio in Salt Lake where Chris recorded piano accompaniment of all the children's songs to be used throughout the world when a piano wasn't available.
The day after the competition Chris took off on a fishing trip, but I didn't mind because I could go to the store and buy ice cream and potato chips! I have no idea what happened to the newspaper clippings about all of this. I wish I could include them.
Life continued on in spite of the new "fame". We worked at our church jobs, played with friends a lot, and caught concerts on campus. And then I finally got a job with Utah State Social Service. I started reading to a blind lady, going shopping for shut-ins, and then I got a job taking care of George who was about 80 or so. I went in for four hours a day to do his laundry, make his bed, and cook a few simple things for him to eat. He liked bread pudding, so I learned to make that. One day I made him some chicken soup to which I naturally added the chopped up liver, heart and gizzard. George was diabetic and half blind, so he didn't see the giblets, but when he tasted them he threw his bowl across the table! "No more giblets! I get it, George!" But all in all we were a congenial pair. We talked pleasantly, and then we each took a nap. He just liked my companionship. I worked for George right up until the day Shelly was born. The call to his daughter was the first one I made. I took Shelly back to show George, but I never worked for him after that.
After Shelly came (incidentally she and Taggart were both delivered by Dr. Broadbent, the featured obstetrician in the birth scene from "Man's Search for Happiness"--Little did I know when I watched that 3,781 times as a missionary that I would have a very
personal
experience both as my branch president for nearly three years and my ob/gyn with him)
,
I don't remember who worked or where. Probably nobody nowhere. that may have been when Chris wore an orange jumpsuit and picked up trash at Utah Lake. She came in mid October, and I remember by Thanksgiving we had ZIP! I got a gig filing for a lady down the street and made a few dollars. We hooked a ride with Brad and joined some Giles relatives for Thanksgiving dinner up in Salt Lake. I just remember counting every single penny and pinching it. Someone had taken a crowbar and knocked out the back passenger window in our old car as it sat parked out in the street. We couldn't even afford to get it replaced, so we cut a piece of cardboard to fit it and took off for California for Christmas--I'm sure supplemented by Grandpa Giles. The cardboard window worked quite well (except of course you couldn't see out of it) until it got sucked out into the night just this side of St. George! Then things got dramatic with a tiny newborn in the car! We limped to our destination.
This narrative is getting gloomy. Let me skip ahead a bit. Shelly got bigger. I wrote a roadshow and a Relief Society birthday skit for which we also sewed 120 aprons that turned into bonnets--nifty. I took an institute class, and Chris finished up his degree. Brad became a regular welcome guest and huge huge fan of Shelly. They loved to watch the Muppet Show together, and Brad bought Shelly a stuffed Fozzie. I got a job slicing bread at night in a bakery. I also tried selling Tupperware. Brad and I spent a week watching the entire
Roots
series at the Varsity Theatre. A neighbor Ellen and I attended a filming of the Donny and Marie Show in Orem. My parents gave us a Ford LTD without a cardboard window. Shelly lay silently prone in front of a monkey puppet in the B.Y.U. bookstore until my mom bought it for her. I remember a Christmas when I was wrapping in the kitchen, and Chris was wrapping in the living room. We bank shot the tape off the doorway between us, so we wouldn't see what each was wrapping. I remember we laughed until we were incapacitated.
In the spring of 1977, Chris left for a month to travel all over the U.S. and Canada with the B.Y.U. philharmonic as a soloist playing Rachmaninoff's "Variations on a theme of Paganini" something like 21 times. Shelly and I caught a ride to California. The Giles encouraged me to try my luck on game shows to help the family economy. I went to Hollywood to take the Jeopardy! test. Forty of us were in a room where they passed us each a test. This would not be my last attempt to get on Jeopardy!, but it would be my most unsuccessful. This particular test was heavy on sports trivia--uh oh. I knew I was out of my league during introductions as well--lawyers, doctors, professors--and me, a pregnant housewife from Provo, Utah. We did get a team together to try out for Family Feud. That test went better because we had to play a live game.
"Name a duke."
"A duke??? Really???" Number one answer was "John Wayne". As luck would have it we got called to appear on that show, but I had already returned to Provo. Chris returned exhausted, our bank account had grown even skinnier, and a new baby was coming as well as a move.
Taggart was in the cooker and eventually made his debut. We snipped off his foreskin, packed up the car, stuck our belongings in a truck with two other couples headed for Indiana too, and off we went. After seven years in Provo, I was happy to be moving east.
(Baby Tag with Willie)